You already know the advertising poncho : this unusual advertising  article, solid, lightweight and low costing.

It is the perfect article for street marketing, athletic event sponsoring or outdoor events.
The product offers two printing options.
The unique printing on the font side and the back side of the poncho.
The repeat printing.
The last option is the most interresting in communication because the visibility of the logo is accentuated.
Astuce : you can inser until four diferent logos and these four logos are repeated on the poncho.
For a sportif evenement, for example, you can make the logos of four of your sponsors appear
What a nice communication tool !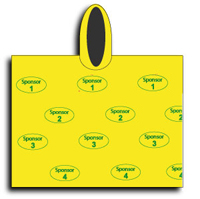 More interesting posts here :